A Virtual Experience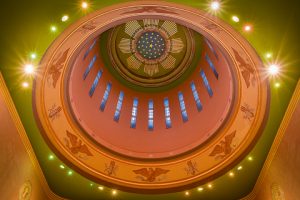 Take a virtual tour to visit the Capitol Rotunda, House and Senate Chambers, Governor's Ceremonial Office and even the observation platform while these historical spaces are closed for construction. Watch videos of the State Capitol State Park, Capitol entrance and Rotunda, House and Senate Chambers and Governor's Ceremonial Office. You can also explore online exhibits, discover Capitol history and Oregon's legislative heritage.
Building Tour
​​​​We offer a wonderful virtual tour with audio guide in English, Spanish and Mandarin languages. Explore this tour at home, or listen to the audio guide as an accompaniment to your onsite visit when the historical portions of the building reopen after construction.
Tower Tour
The virtual tower tour lands you on the observation deck, more than 160 feet above ground. Watch the video here which shares the climb up the spiral staircase behind the rotunda walls!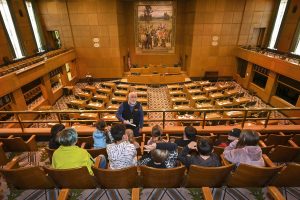 Educational Tour
​​​​Guided, in-classroom, virtual tours of both the building and tower are available for fourth-grade and older school students. To learn more about these tours, visit here, or call 503-986-1388 for more information. While learning about the virtual tour, don't forget to explore the online education resources available for your use.
Explore on Your Own
Due to construction, the historic portion of the Capitol is closed through 2024. If visiting during this time, access is on the south side of the Capitol. An onsite visit is limited to the Senate and House Wings. During legislative session hearing rooms are open during committee meetings  and the third-floor House and Senate chamber south-side viewing galleries (limited seating) are open during legislative floor sessions.
Watch Your Legislature in Action
Learn how ideas become laws. During legislative sessions, observe House and Senate floor sessions and committee meetings in person or watch them live online.
Self-Guided Building Tour
Explore the Capitol on your own from 8 a.m. to 5 p.m., Monday through Friday year-round. Pick up a brochure of building highlights, as well as information about exhibits and artwork, near the Guest Services Desk on the first floor. Or, you can use the virtual tour's audio guide in English, Spanish and Mandarin as you explore the building at your own pace.
Self-Guided Tour of State Capitol State Park
The park is owned by the people of Oregon. The grounds tell a story of Oregon's history, through architecture, botany and art. Statues of historic Oregon figures, the Walk of Flags, WWII Memorial, Medal of Honor Memorial, Liberty Bell replica, marble intaglio sculptures, special plantings and commemorative markers all create a sense of history and place in the grounds surrounding the Capitol. View State Capitol State Park self-guided walking tour brochure.
Seasons at the Capitol
Your Capitol changes with the seasons: bustling during lawmaking sessions and lively during special and seasonal events.
Self-guided tour season: Year-round
Legislative session: February (35 days, even numbered years)
Legislative session: January – June (160 days, odd numbered years)
Cherry blossom season: March – April