Exhibits at the Capitol include biennial exhibits in the cases outside of the hearing rooms, virtual exhibits on the website, rotating exhibits in the Capitol Galleria, electronic exhibits in the Welcome Center and our public art throughout the building. Featured Virtual Exhibit: The Nez Perce in Oregon: Removal and Return
"The Nez Perce in Oregon: Removal and Return" puts the oft-told story of the Nez Perce War and Chief Joseph into national and Oregon context. The Nez Perce today are descendants of tribal peoples living in the intermountain west for millennia. Recent archeological findings at Coopers Ferry on the Salmon River put human habitations back to 16,000 years ago; there is a Nez Perce name for the site. The Nez Perce, who befriended and helped Lewis and Clark on their journey, had lands taken by treaty and by homesteader encroachment--and finally by war. ​Nez Perce were subjected to boarding schools, allotment, and other assimilationist efforts. But the people are resilient, and the Nez Perce Wallowa Homeland, a non-p​​rofit with tribal and local representatives, has a dance arbor and a Longhouse on 320 acres near the town of Wallowa; Tribal Fisheries is restoring salmon runs in Eastern Oregon; and the Nez Perce Tribe owns land in the Wallowa.
This exhibit, presented by the Josephy Center for Arts and Culture, was awarded a Ca​pitol History Gateway Exhibit Sponsorship in 2022, which is funded by the Oregon State Capitol Foundation, a 501c3 non-profit organization.
Please explore the panel below and arrow on the right to advance the panels. ​
The Capitol History Gateway Exhibit Cases: Capitol Construction
The Capitol has undergone much change in its life. Constructed in 1937-1938, the building has always been a beacon for those wishing to propose change. In 1977, the building had an expansion with the creation of hearing rooms and the "wings," legislative offices for the Senate and House members. Today, the building is undergoing more change. With the need to create a more accessible and safe building, the legislature passed funding in 2016 to start the Capitol Accessibility, Maintenance and Safety (CAMS) construction project. To learn more about the building's changes over time, visit the exhibit cases in front of the hearing rooms on the first floor or scroll through the panels below.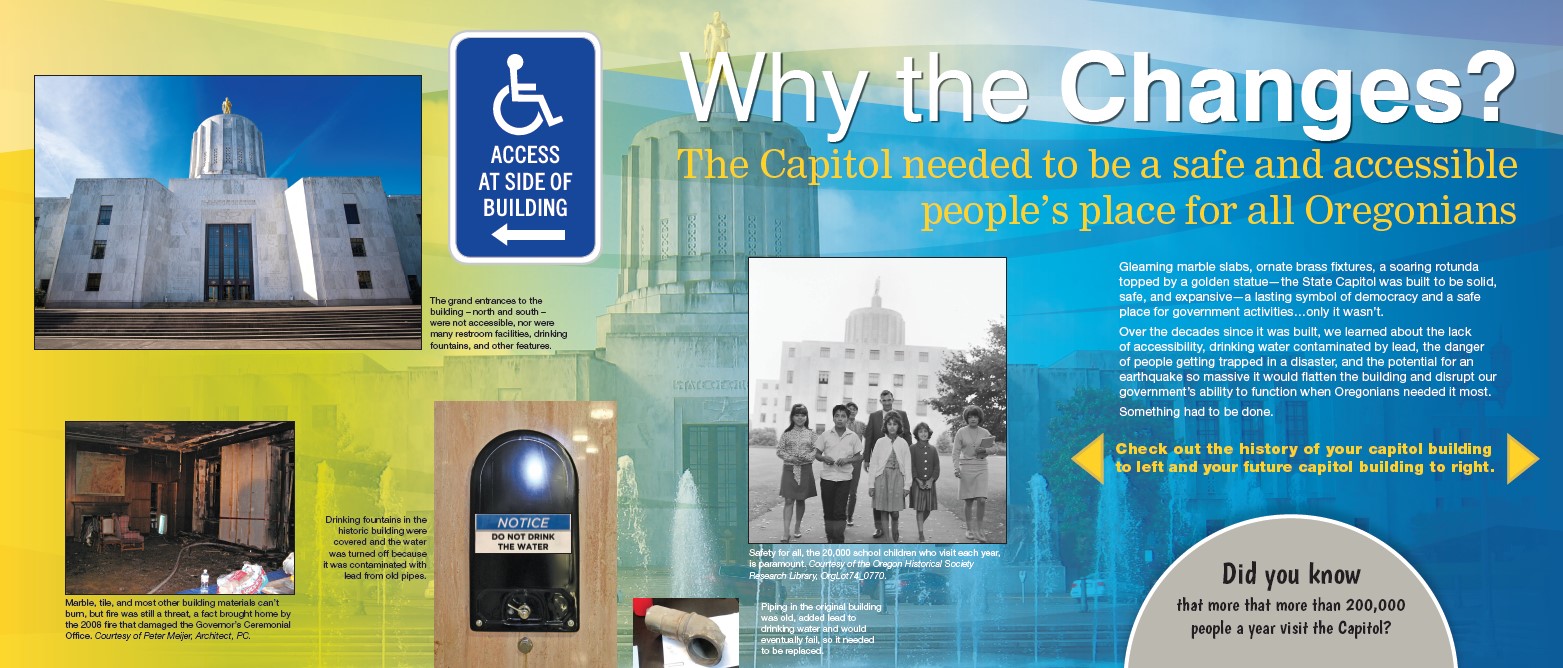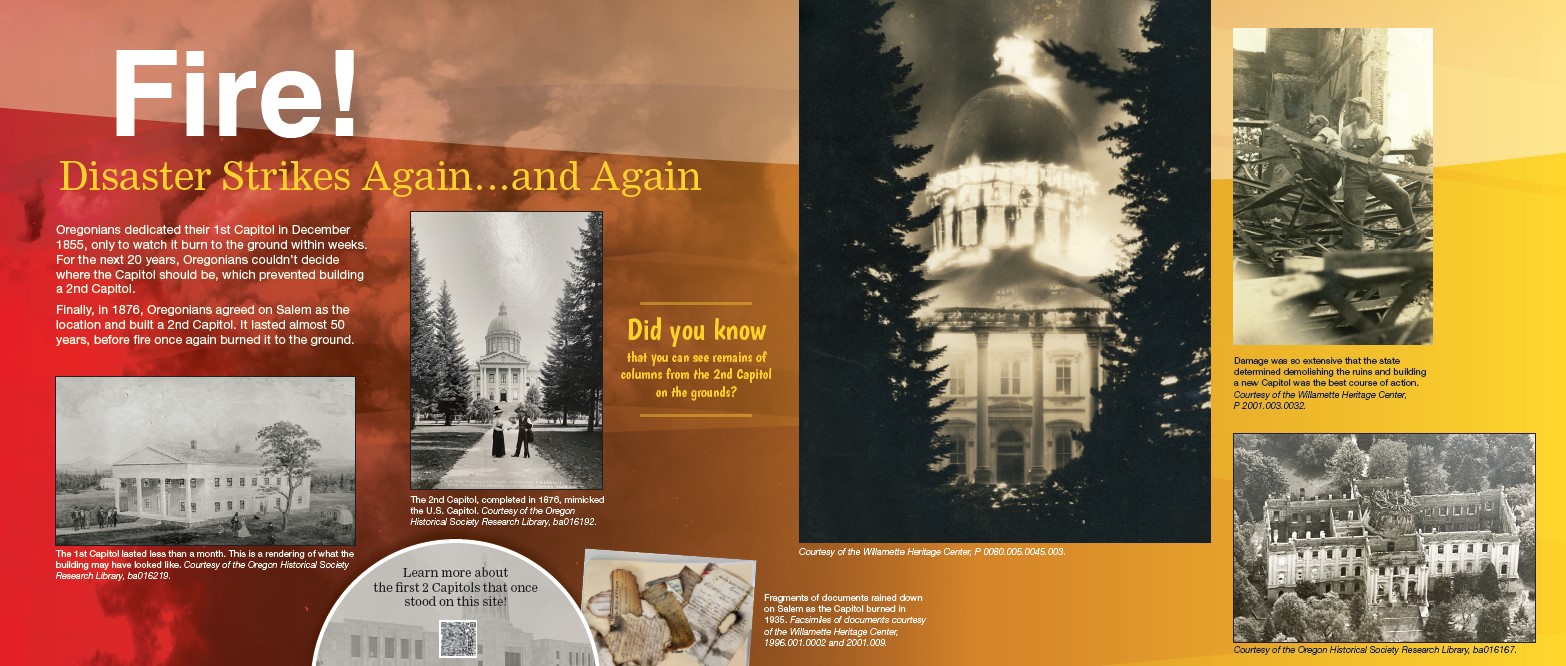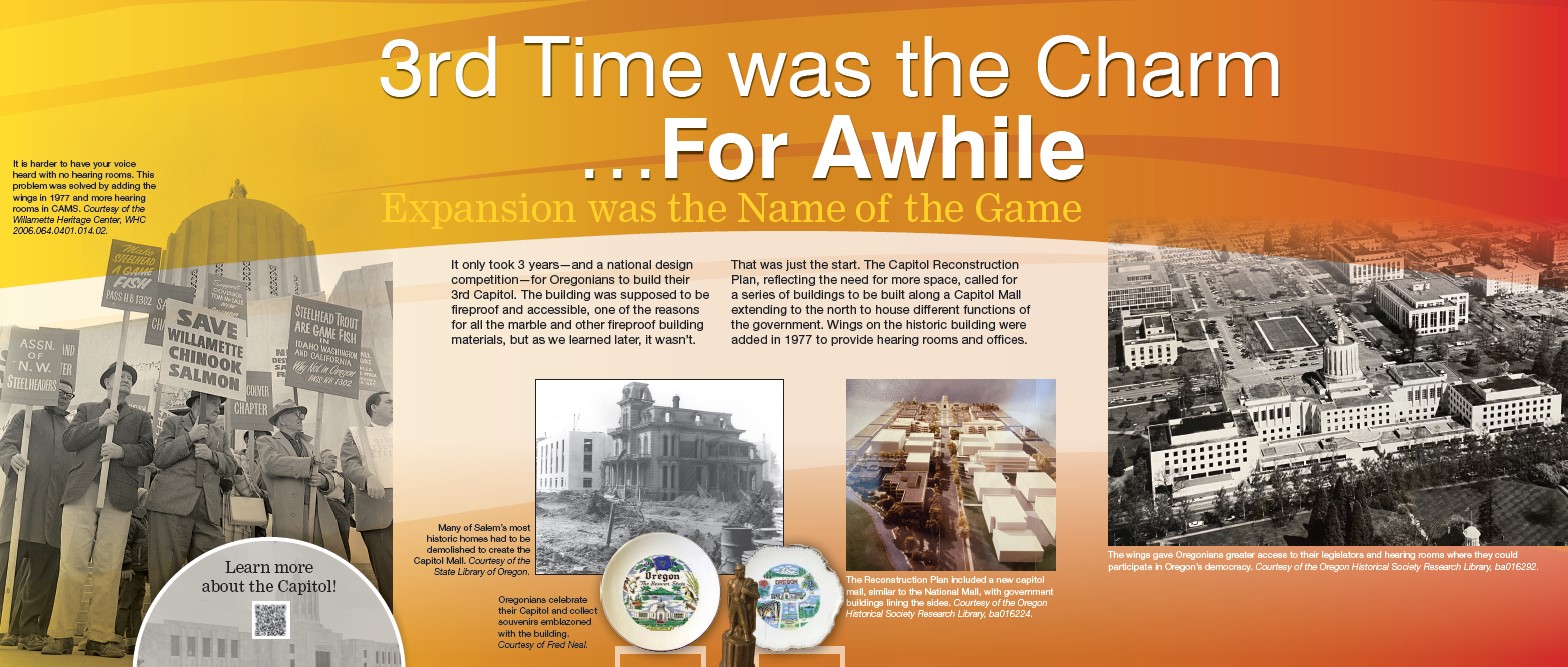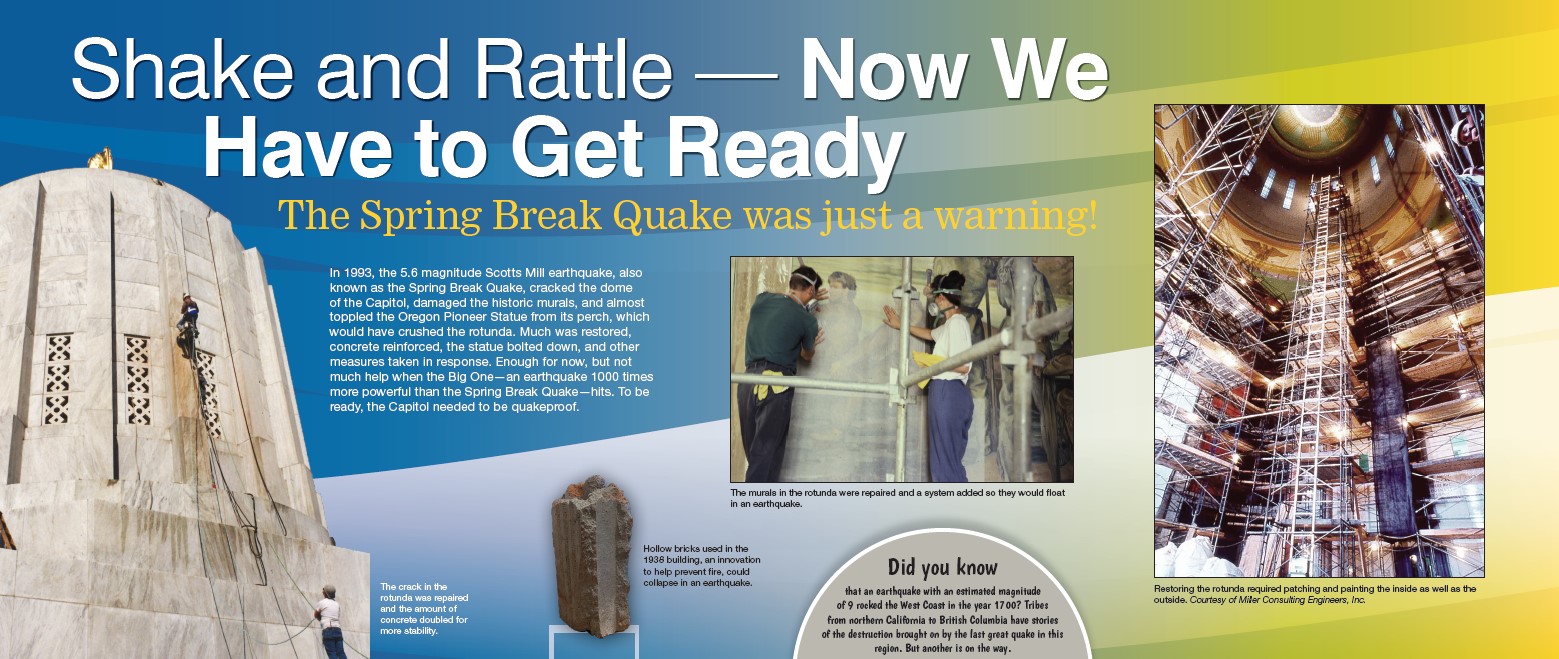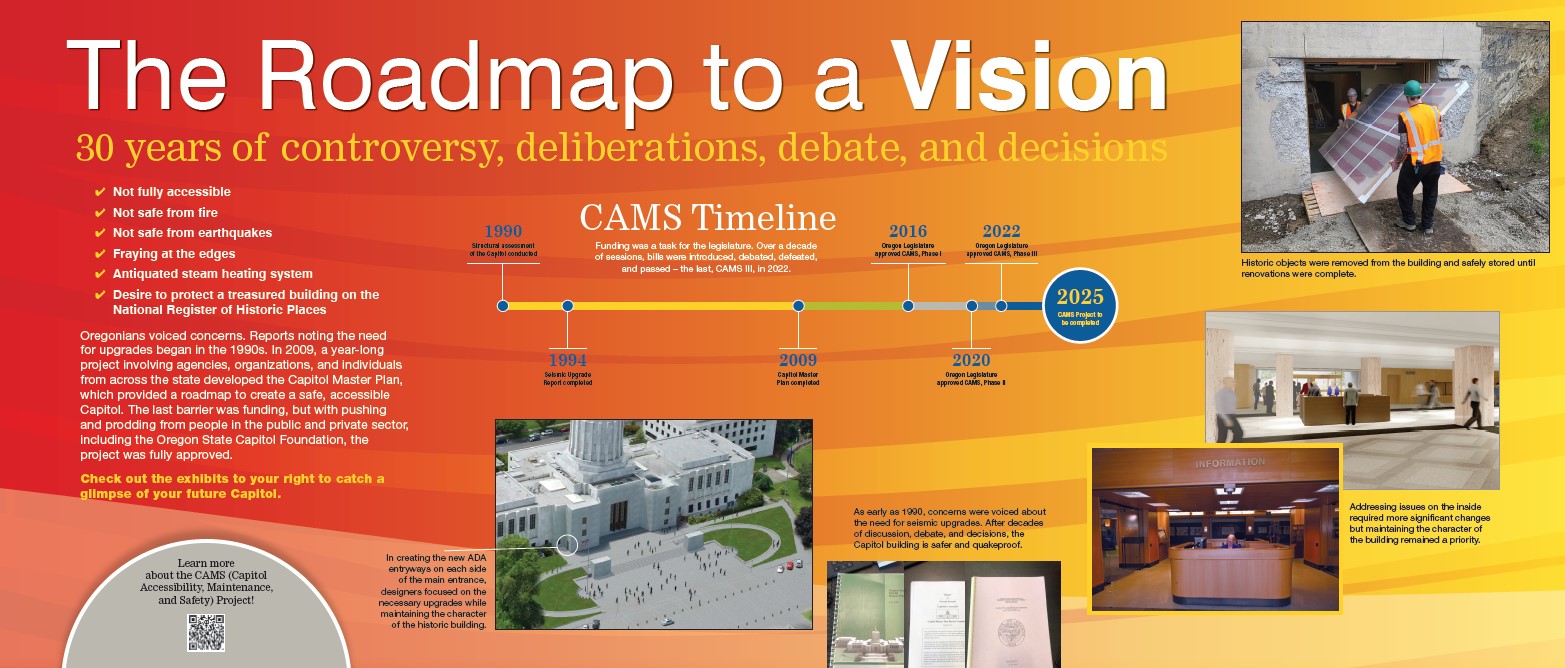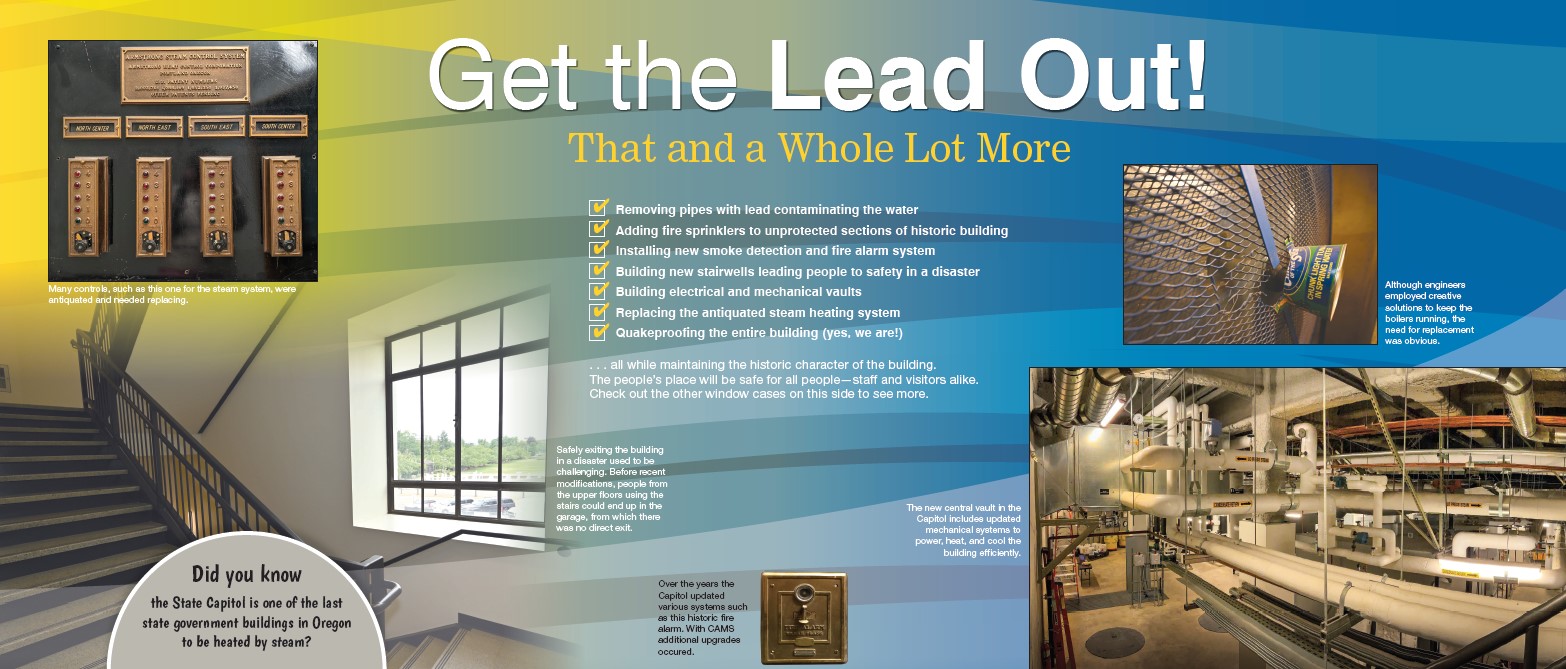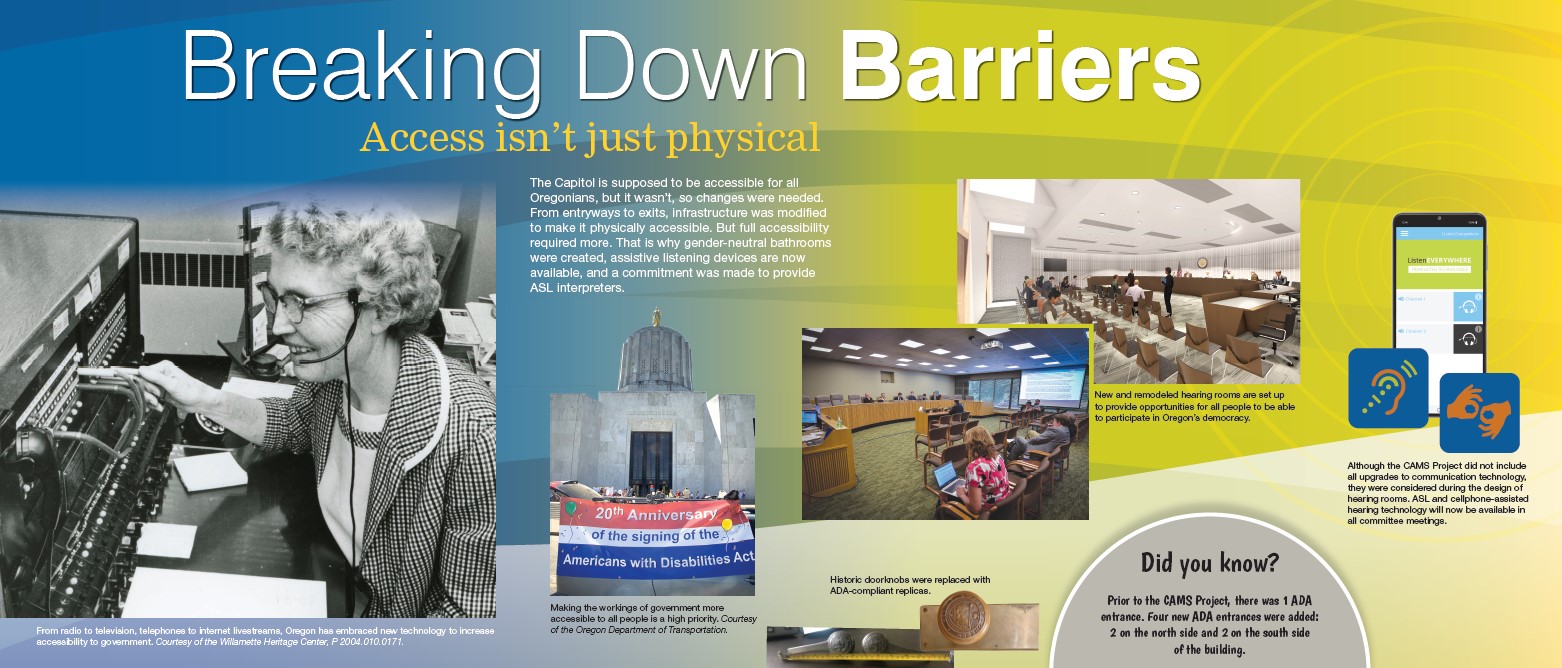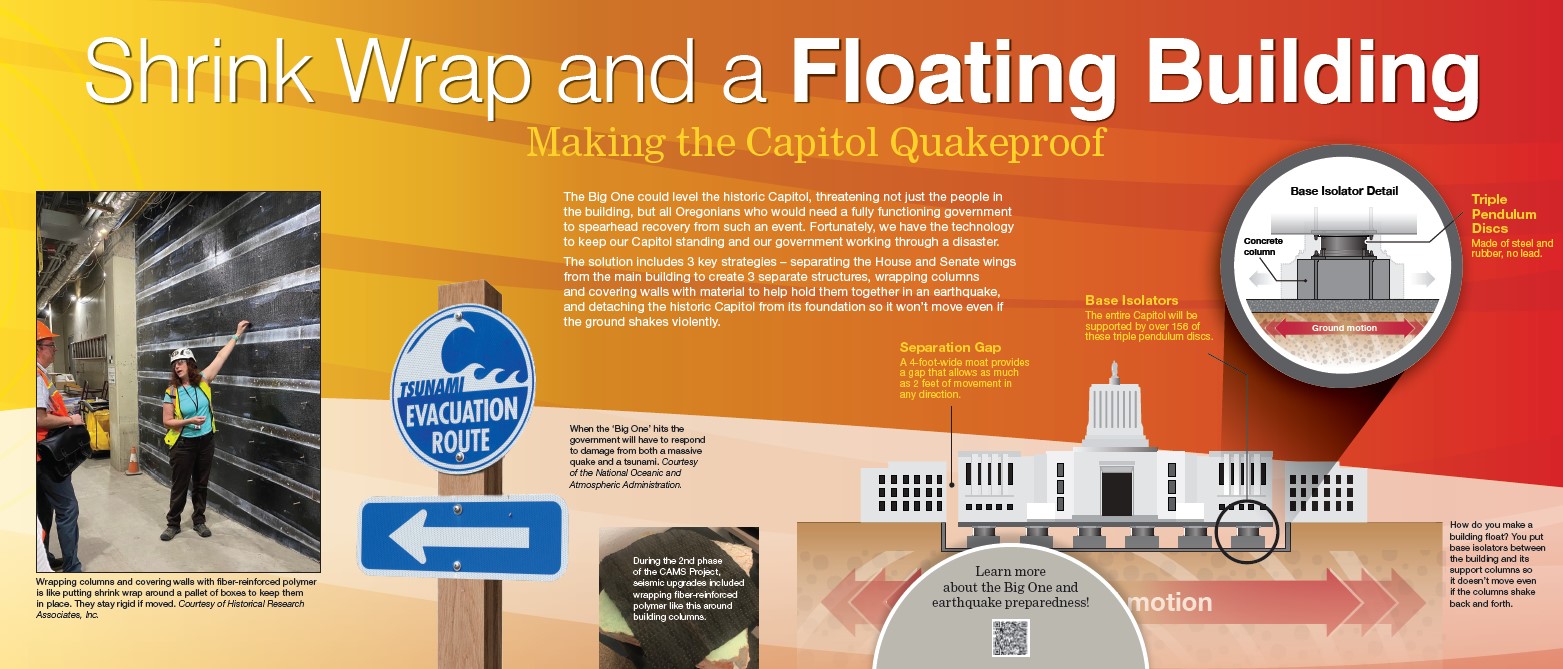 Previous exhibits shown at the Capitol:
Capitol Art Collection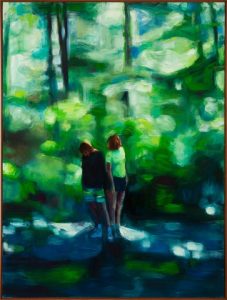 The astounding Capitol Art Collection was the first funded by Oregon's Percent for Art legislation, another of the state's groundbreaking laws. Grab a self-guided tour brochure at the Guest Services Kiosk on the first floor and discover some of the Capitol's fascinating art treasures. The collection features work by over 150 of Oregon's finest artists and most pieces are housed in the legislative member office wings. A catalog containing photos and descriptions is available for purchase in the Capitol Store.