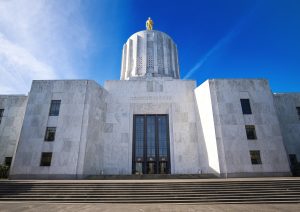 Oregon's Capitol is a National Historic Landmark and is one of five Art Deco state capitols in the nation. Surrounded by a 21-acre state park, the Capitol is in the heart of historic downtown Salem. While a large-scale construction project has temporarily closed access to the Capitol's historic building, we invite you to take a virtual tour to explore one of Oregon's treasures. During the construction project the Senate and House Wings (member offices) and the hearing rooms connecting the wings, are open to the public Monday through Friday, 8 a.m. to 5 p.m. Or discover the Capitol's history, Oregon's heritage, and ways to get involved in the legislative process.
The Capitol is where state laws are passed. Here, you can engage in the process by observing your Legislature in committee and chamber floor sessions, meeting with your legislator, testifying in person or remotely, or by submitting testimony in writing. Find out who represents you, or view the committee schedule and participate.
If it's your first time here, we hope you leave inspired to return. Our democracy is strongest when everyone participates. You can make a difference by getting involved.